Music and Poetry Help Celebrate Trees

During a Sunday afternoon of music and art dedicated to trees, a children's choir at the Community Christian Church, 4601 Main St., sang "Celebrating Trees."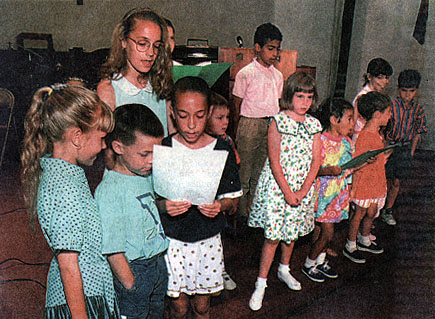 "Great are those who plant shade trees they will never sit under."
That observation, by Alfred North Whitehead, is recalled on a plaque at Community Christian Church near the Country Club Plaza. The English mathematician and philosopher would have smiled Sunday to hear his sentiments echoed in music and verse during an event at the church called "Celebrating Trees."
Although sparked by the loss of stately trees along Brush Creek to make way for a flood control project, the event was not marked by anger or protest. Instead, the theme was the harmony and beauty of nature, especially trees.
"Celebrating Trees is dedicated to saving Kansas City's trees, Kansas City's tradition and Kansas City's culture for our grandparents' and our grandchildren's sake," said Kim Park, a local jazz saxophonist who organized the event.
"We're celebrating trees," Park said. "What's more pleasant than that?"
An audience of about 80 youngsters and adults were treated to jazz from musicians including area legend Claude "Fiddler" Williams and his violin. Local singer Karrin Allyson sang about the wonderful world.
There were readings of new poetry and of Joyce Kilmer's standard, "I think that I shall never see . . ."
An offering of Beethoven, played on stringed instruments made from trees, was woven into the hour long program along with a Ute Indian children's song that translates to "I Walk in Beauty."
Artist Barry Coffin, of Creek-Potawatomi heritage, displayed paintings and sculptures, including a series of whimsical "Tree People."
Park said he hopes the celebration can become an annual event to nurture an appreciation for trees.
Many of the venerable trunks being sacrificed for flood control on Brush Creek will end up at the Kansas City Art Institute as raw material for works of art. Others will be used by native Americans in ceremonial fires.
"Without trees our whole world would be obliterated into heat, into a desert, into an oxygen-less world." Community Christian Church Pastor Robert Hill told the audience in a benediction.
"The best thing you could do on Father's Day on Mother Earth is to go out and plant a tree."
By Matt Campbell, Staff Writer
The Kansas City Star, Metropolitan Section B, Page 1 Monday, June 21. 1993